David Grant
Creative Director |
Print & Web
David
"DG"

Grant
Possible Job Titles
Graphic Designer
For hire? But, what do you do? Good question...
Reason #1: Settling on or even concepting a concise job title. I do not believe it is possible to 'elevator pitch' myself because I specialize in such a wide variety of fields. All of which I enjoy and are actively used by every business.
Reason #2: Phrasing problem #1 without sounding like a pompous, know-it-all egghead.
Reason #2: Phrasing problem #1 without sounding like a pompous, know-it-all egghead.
Problem #3: To convince potential employers that I'm not the "pretentious artsy" type, but also believe that I can (and have) competently performed EVERY one of those previously mentioned job positions.
And that's where this resume/portfolio site comes in...to squash (at min) problems 1 and 3.
All joking and self-adulation aside, let's cut right to the point. You're here to assess whether I'd be a beneficial asset to fill a void in your company. From where I'm sitting, it's a no-brainer. View the next tab, HIGHLIGHTS, to get a better sense of why I am so confident and eager to work with or for you.
Wisdom that can only come from Experience
The major strides that I have been making in automation is what, I believe, to be the key to optimizing top-quality production. From there, we can more easily provide clients with the best possible R.O.I.. And that, in a nutshell, is my top secret to success. Uh, but, ummm you wouldn't tell this to anyone, right? I'd kinda like that to be just between us...This way, your already successful company, can benefit from this strategy and leave the competition in the dark!
Extensive and strong background creating exciting marketing promotional materials and engaging branding elements

Continuous self-education to increase proficiency; savvy and systematic work-flow maximizing consistency for web and print

Outstanding eye for typography, pixel-perfect interfaces and photographic retouching [a.k.a. Photoshop "magic" skills]

Dependable and detail oriented yet able to meet tight deadlines; excellent time management and organizational skills

Personable; comfortable as a team leader, team player or solo; superb client communication skills [15+ year freelance career]

Strategic marketing experience; solid grasp of the 'big picture' and R.O.I. with realistic expectations for web or print projects' outcome before beginning

Comfortable providing justification for design decisions
Education
Rowan University

September 1990 - May 1994

Location:

Glassboro, New Jersey

Degree:

Bachelor of Fine Arts

A professional, studio-intensive, BFA specialization completed in four years and exceeded in all mandatory major courses (theory of design, art and graphic design techniques) with a cumulative 3.8 GPA for those courses of study. Curriculum consisted of the seven graphic design courses offered by the Art Department and fulfills the graphic design specialization requirements. The BFA specialization provided a comprehensive education upon entering the graphic design profession.
Work Experience
May 2001 - Present

infin80 creative and Professional Photo Collages

Owner

infin80 creative: Begun in 2001, my freelance business has completed a myriad of projects for citizens across the globe. Work includes catalogs, brochures, website design and development, CDs, trade show graphics and signage, logos and corporate identities, business startup marketing and promotional materials (inc. web mail, SEO, PPC, web traffic analysis, AdWords, etc)

Professional Photo Collages, Inc.: Combining a love for digital photography, realist artistic effects and image retouching brought about ProCollage® in 2001. Still creating approx 2-3 prints/week, we have a library of 2,500 orders. Large output design of client provided digital images and photographs crafted into poster-sized collages, pop-art, mosaics. Ongoing improvements for website sales

CLIENTS: Marriott, UFC, Lingerie Football, Waldorf Astoria, Team Tile & Stone, Dash for Donors Charity Org., Fifth Street Gaming

Feb 2012 - Jan 2015

Spearmint Rhino Las Vegas and zexzoo® / MyCitySocial.com

Creative Director

Concept, innovate, design and build ground-breaking, dynamic nightlife and social networking hub with interaction capabilities; maintain consistent, hip brand image
Concept design mobile app to coincide with web presence
Concept design updated brand identity for world-renowned adult entertainment gentlemen's club
Manage in-house and freelance designers; work in tandem backend programmers
Develop and prepare unique marketing ideas, concepts and budgeting strategies

CLIENTS: Mile High Gentlemen' Club, Spearmint Rhino Las Vegas, Crazy Horse Too, zexzoo.com

Feb 2003 - Jan 2011

The Media & Marketing Group and Star Group

Oversee team production on multiple, simultaneous casino accounts and their associated projects and events
Concept and maintain branding identities for casino properties; concept and design promotional marketing materials, ads and logos, outdoor advertising and signage, invites, direct mail, brochures and on-site marketing materials
Oversee/direct photo shoots, concept marketing promotions, campaigns and implementation coordination of all media inc. print, radio and internet

CLIENTS: Harrah's Entertainment Corporate, Sands Casino & Hotel, Trump Marina, Spotlight 29, Las Vegas Hilton, Venetian, Palazzo, Resorts East Chicago

Jun 1994 - May 2002

Advertising Systems Inc.

Catalog, brochure design, publishing layout, pre-press production
Package design, newsletters, direct mail, trade shows, magazines, corporate identities and logos, signage and brand advertising
Webmaster; design and maintain numerous websites (b. 1995)
Color correct, manipulation, optimization and image retouching

CLIENTS: Arai® Helmets, Asian World of Martial Arts, Comcast®, Caliper Inc., National Paintball Supply®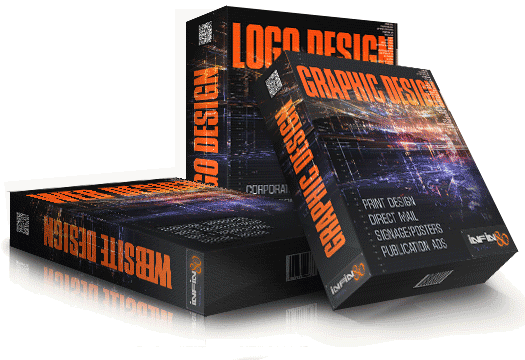 Portfolio Projects
The following portfolio samples were created from a large diversity of clientele during my career and the various design positions I've had. This includes work from my freelancing jobs as well as artistic creations designed for ProCollage®. A vast amount of the more glamorous projects stem from my work in the gaming and nightlife industries. All projects displayed were designed, developed and created solely by me.
These thumbnails were chosen randomly and were created dynamically from a rather new PHP image gallery script that I have been eagerly waiting to use. The thumbnails are of different resolutions and proportions. The script utilizes Git, the OSX Terminal and creates the thumbnails of all the images placed in a particular folder.
A great feature of the script is that the resulting markup is responsive. A drawback is that this dynamic creation makes it difficult to write descriptive text for any particular image easily. Nevertheless, this photo gallery showcases a vast assortment of my favorite projects. Please find more on my business 'storefront' site infin80.com.
So, please enjoy this portfolio selection that includes website design, promotional logos, billboard and outdoor signage, publication design, corporate identities and more, in no particular order...
Don't You Forget About Me...
Let's stay in touch
If email or phones are not your thing, then how about a quick-n-easy contact form? Whether it's a question or comment or something completely different, I'm ready to go on and we can start from there. Your time is very much appreciated.
Wait! Before you go
Please be sure to grab one of our parting gifts!
After taking all of that beautiful content in, we just couldn't let you go away empty-handed. We've devised a unique way to condense all the content contained in this site into a single page or so; keeping all pertinent information! No, it's no joke. I know you want to tell me to drop the mouse and slowly back away from the computer, right? Understood. But, now what if I told you that you could not only view it, but physically hold and feel it... take it home with you if you like!
No, I'm not joking! I'm quite serious...a streamlined layout and orderly design we've named a "resume".
OK, enough tomfoolery. My apology for the sarcastic tone. It is stemming from the pent up frustration levels of creating this entire resume document and matching website. A variety of the reasons are explained in an anti-interactive resume article I wrote in March 2017.
Here's a quick recap... Problem A - major difficulty ensuring everyone

could view the functionality of the interactive PDF. Turns out only Adobe® Reader can render the interactive document correctly. My initial research before beginning had prepared me for this issue. But, as long as everyone went to the webpage, the necessary plugins and scripts would accurately portray a 'working' Resume. I could live with that. If everyone download the resume and it 'worked' half of the time, well, then at least they all would've seen it already properly functioning online, right?
Knock, knock! Uh, who is it? Problem B ! Resume to reading the full story, How I ended up with a Useless Interactive Resume over on Medium.com.
Don't get me wrong, I believe both resumes represent my skills well and are thoughtfully designed. The underlying issue is the complexity in which it is to view properly. To ask employers to try 1 of 4 options in order to view a resume is unheard of and reason enough to move on to the next candidate. That is presicely why I built print resume no. 2. should be no more complicated than blinking. That being said, four options to try...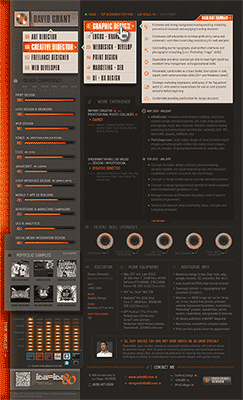 Here are your options:
Download PDF

- Fortunate users will see the PDF embedded into a new page in your browser

View with Flash

- This option seems to work well...well, only if you have Flash that is

Download PDF

- Download the file to your hard drive. Open it with Adobe® Acrobat Reader
<